EV220B 15-50 and EV220BW 40-50 are a universal indirect servo-operated 2/2-way solenoid valve program. Valve body in brass, dezincification resistant brass and stainless steel ensures that a broad variety of application can be covered.
Built-in pilot filter as standard, adjustable closing time and enclosures up to IP67 ensures optimal performance even under critical working conditions.
2-way
Coil operated
Valve body: brass
Sealing material: NBR
ISO 228/1
Normally closed
Danfoss valves have a balance between high quality and affordable price. They are maintenance-free and will serve you for many years.
The benefits of exceptional features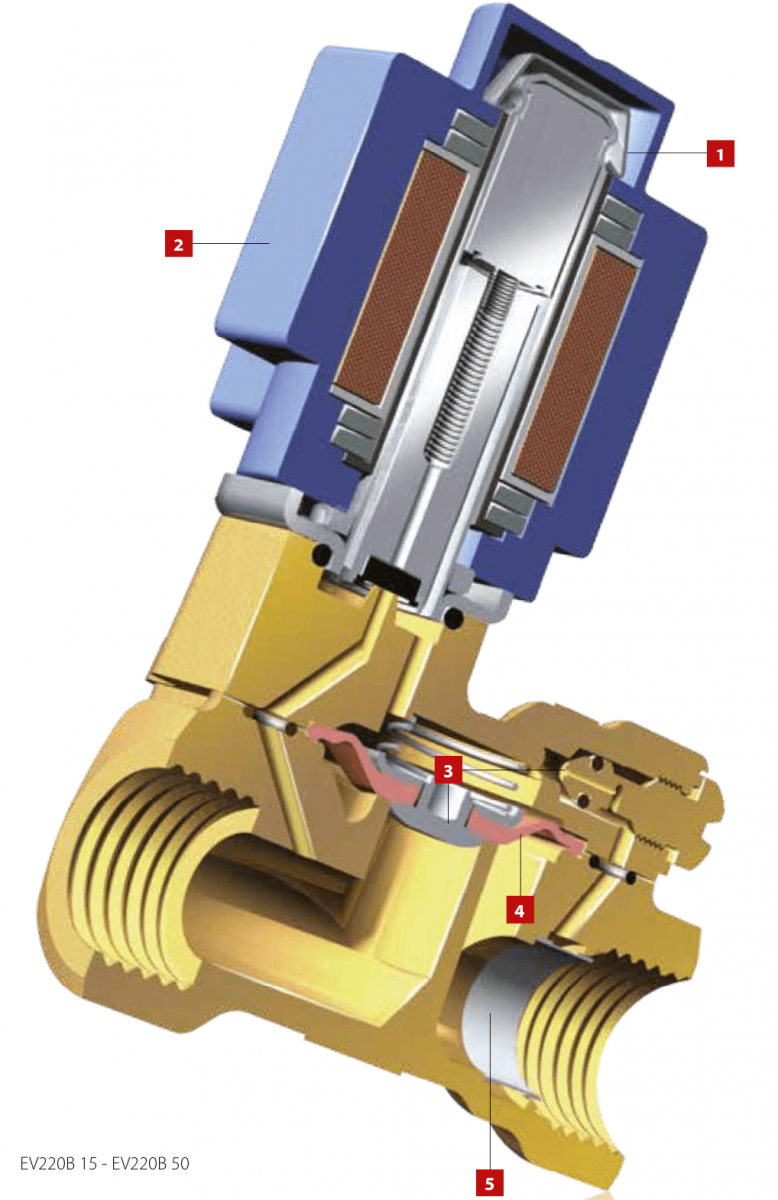 1 Clip-on spool
The very convenient snap-in coil system allows easy and safe tool-free assembly and disassembly. A hermetically sealed seal is also available on request.
2 Coil enclosure up to IP67
The range of coils from IP00 to IP67 offers the optimum solution for different applications.
3 Improved water hammering
Controlled damping in the final closure stage, optimized diaphragm assembly and balancing nozzle reduce water hammer to 1.5 bar in all valves (according to EN 60730-2-8, at 6 bar test pressure).
4 Long life and high performance
The service life of the valve is significantly increased due to the specially shaped diaphragm, which reduces the level of stress on the rubber. This special shape also ensures optimum flow.
5 Insensitivity to pollution
The built-in filter, protecting the pilot's valve system, is self-cleaning. If the impurities are clogged by the impurities, they are easy to clean.